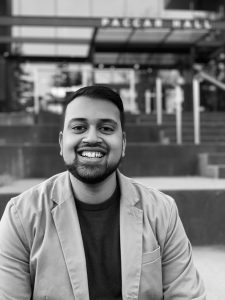 Hello everyone! I am honored to be running as your Director of Campus Partnerships!
As Director of Campus Partnerships, I will work to end the continued lack of access to and trust in UW health and safety groups, intentionally elevating the perspectives of marginalized students. I have significant experience representing the voices of a variety of populations in this discussion and interfacing with UW admin through my roles as the Pakistani Students Association President, Student Program Coordinator for Orientation, active member of the Muslims Students Association, and UW Alumni Association Student Ambassador. Specifically I plan to:
Collaborate with JCC and legacy RSOs to give a platform to marginalized students to share their experiences and concerns with UWPD
Represent student voices with SHC Director during the implementation of the findings of the Mental Health and Hall Health Task Forces, particularly bringing in the perspectives of students without insurance
Work to make UWPD and all health organizations, including Student Health Consortium, accessible to all students, particularly international students and students with disabilities
Ensure all emergency protocols for our health and safety groups include the needs of students with disabilities, commuter students, non-traditional populations, international students, and more.
Qualifications:
Pakistani Student Association President 2019-20
First Year Programs Student Coordinator 2019-20
Muslim Student Association 2018-20
Endorsements:
Bengali Students Association
Black Student Union
Pi Kappa Phi
ASL Club at UW
Alpha Phi
Delta Delta Delta
Interfraternity Council
Kappa Alpha Theta
Kappa Sigma
Students for Bernie at UW