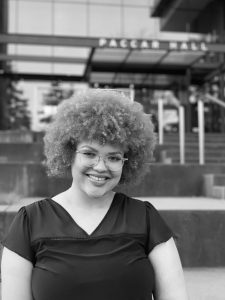 Hey y'all, I'm ecstatic to announce that I'm running for Director of Diversity Efforts! In this position, I aim to improve dynamic programming for underrepresented groups through more accessible opportunities and events on our campus. As a liaison, I will learn from and uplift diverse voices to ensure the empowerment of all marginalized students. My internship with the Black Student Commission as a liaison to the Student Advisory Board has informed my inclusive approach to advocate for students and support event programming. I will utilize my experiences as an OMA&D mentor and Orientation Leader to creatively use resources to increase equitable educational outcomes and promote inclusivity by educating students about diverse identities.
Partner with the proposed Office of Inclusive Design to increase accessibility to diversity commission (JCC) programs.
Include the voice of international students to inform ASUW decision-making.
Work with JCC entities to better reflect intersectional identities and evolving identification.
Establish broader communication and collaboration across JCC entities.
Promote diversity in ASUW Student Senate by working with JCC, diversity organizations, and RSOs to increase representation.
Expand diversity course requirement and informal education surrounding identity, culture, and positionality.
Increase visibility of avenues for remedying discrimination and ensuring accountability.
Qualifications:
UW Orientation Leader 2019-20
OMA/D Mentor Power for Success Mentor 2018-19
ASUW Black Student Commission SAB Liaison 2018-19
Endorsements:
Bengali Students Association
Black Student Union
Pi Kappa Phi
ASL Club at UW
Alpha Phi
Delta Delta Delta
Interfraternity Council
Kappa Alpha Theta
Kappa Sigma
Students for Bernie at UW